Today's Inactive Buccaneers
September 8th, 2013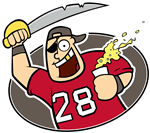 No big surprises on today's inactive list for the Bucs' 2013 opener against the Jets.
Injuries/illness have sidelined TE Tom Crabtree (ankle),  G Carl Nicks (MRSA/Foot), CB Rashaan Melvin (hamstring), FB Erik Lorig (calf), and rookie defensive linemen William Gholston and Chris Jones will join third quarterback Dan Orlovsky on the sidelines.
For those looking for former captain of the inactive list Michael Smith, he's out for the year on injured reserve.