Schiano Details "My Thinking" On 3rd-And-6
September 17th, 2013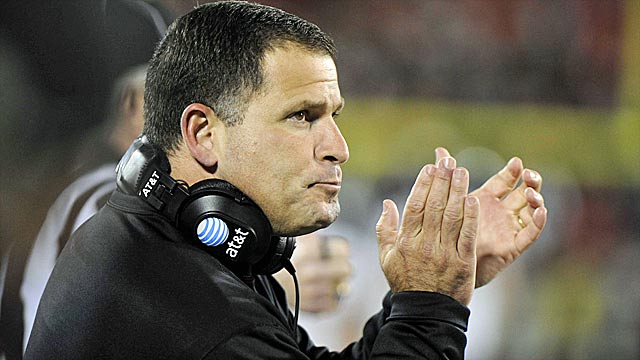 Joe loves that Greg Schiano goes toe to toe with fans on his Monday radio show on WDAE-AM 620. Kudos to the head coach.
Of course, a fan called Schiano to complain about his conservative playcalling at the close of the Bucs collapse against the Saints. Schiano was deatailed with his response.
"Let me talk to you about the third- and fourth-down plays," Schiano said. "I had confidence in Rian [Lindell] making the kick and that's what we were going on. You know I wanted [Brees] to have to score a touchdown, go 80 yards. Here's my thinking, is that we have confidence in Rian making the kick and we have confidence in Mike Koenen kicking [the kickoff] it out of bounds, out the back of the end zone. And now they have to go 80 yards and score a touchdown with no timeouts.

"Some would say, 'Yeah, well, it's Drew Brees.' Well, you know, Drew Brees up until that point had thrown two interceptions and had been sacked four times and our guys were playing him very, very well. So I felt very good about the way we were playing defense. Certainly it didn't end up the way that, you know, the vision of what was going to happen. Did I consider doing a lot of things? Did I consider throwing it on third? Absolutely. Did I consider going for it on fourth? Absolutely. But the one thing I learned a long time ago, being a head coach for a while now, is you know what, you make the decisions that you think are best at the time. Then you only look back to evaluate the decision. You don't second guess yourself. Because at that time you believed that was the best decision."
Joe still doesn't like the Schiano's call on 3rd-and-6, a Doug Martin run that gained three yards before Lindell missed the field goal.
The Bucs were one play from outright victory but Schiano wouldn't take the shot at a first down with a Josh Freeman throw. That's a very makeable down-and-distance for an NFL quarterback with premium options like Vincent Jackson, Mike Williams and Martin. Schiano said he had confidence in Martin, Lindell, Koenen and his defense, but No. 5 wasn't mentioned.
Martin only picked up three yards.
Oh, well. Joe and legions of fans will agonize over this lost shot at the lead in the NFC South.