Schein: Freeman "Sucking" Life From Bucs
September 24th, 2013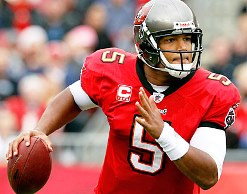 Popular sports radio and television personality Adam Schein seems like a regular Bucs fans in the Tampa Bay area. He likes Bucs rock star general manager Mark Dominik and seems to believe in Bucs commander Greg Schiano.
But that belief is being tested.
First, Schein grew to distrust Freeman and last year said he trusted Christian Ponder more. And look who guided his team to the playoffs last year with big wins over playoff teams, one of which was on the road (a task records show Freeman is terrible at accomplishing).
Before the season, Schein hinted that the hero of the mob that bears his name, Mike Glennon, would eventually call the signals for the Bucs.
Now, three weeks into the season, with Freeman holding the best percentage of inaccuracy in the NFL at a galling 45 percent, Schein now seems to be turning on Schiano because Schiano banking on Freeman to turn the Bucs' fortunes around. Schein explained Monday on SiriusXM Radio's "Mad Dog Radio" channel.
"Who thought the Bucs were going to compete in that [Patriots] game?" Schein said with disgust dripping all over his words. "I mean, Earth to Greg Schiano: You might want to pull Josh Freeman. He is sucking the life out of your team! It's just hard to watch him play right now."
Well, Joe agrees with Schein in a couple of ways. It is painful to watch Freeman now. It has largely been through this 1-8 stretch for the Bucs. He huffs and puffs and has his house falls down upon him.
Joe really, really doesn't think Schiano will bench Freeman. Schiano has to know his job is in hot water and the temperature rises with each loss. He's not going to go down with the ship with a rookie quarterback.