NFL Ponders Goldson Suspension
September 16th, 2013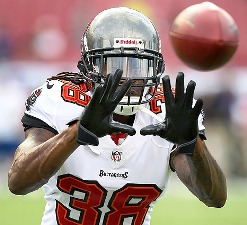 Bucs defenders (sans Darrelle Revis) like to brag about how high-hitting, sometimes-illegal tackling is what they do and they are not about to change their ways.
This stubbornness will end up costing some players a bunch of cash and, likely, playing time.
Per the Twitter feed of NFL insider Adam Schefter, the league is discussing suspending Bucs safety Dashon Goldson.
@AdamSchefter: NFL is considering suspending Bucs S Dashon Goldson for Sunday's helmet-to-helmet hit as well as his hit history. … Since 2010, Bucs S Dashon Goldson has 15 personal fouls, more than any NFL player. The one Sunday might be tipping point.
Simply put, it is irresponsible not to follow and abide by the NFL rules when they change. For better or — in Joe's eyes — worse, the NFL is going after headhunting.
Look, when the NFL changes rules dealing with holding, blocking below the waste, and other elements of the game, players adjust. Why can't (won't?) Goldson and the Bucs?
Or is there a reason the 78 College of Coaches on Greg Schiano's staff cannot coach these guys up?