Josh Freeman's Ugly Numbers
September 22nd, 2013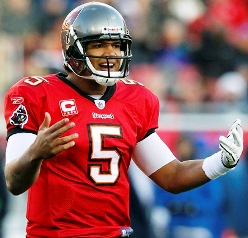 After today's meltdown in New England, Joe just doesn't know how much longer the Bucs can stick with a struggling quarterback like Josh Freeman. Joe is going to guess that Bucs commander Greg Schiano will ride him to the bitter end of the season.
For years, it has been excuses for Freeman. First he didn't have enough toys. Now he has too many drops.
Then, there is the ever-popular "game-planning" crutch.
Joe has never, ever heard of a quarterback coddled by so many well-placed friends. It's one thing for the team to spin for him. It's another to hear each and every Monday how the Bucs offense is everyone's fault but the guy who touches the ball on each and every play.
As Super Bowl-winning quarterback Phil Simms said earlier this week, the quarterback is the second-most important person on the team aside from the head coach. Thing is, you can have the most beautifully concocted gameplan and if the guy(s) on the field cannot execute it, it doesn't matter.
Joe seemed to have noticed Patriots quarterback Tom Brady had some drops today, too. You didn't see him roll up in a fetal position and suck his thumb while enablers patted him on the back and said, "You are playing good, Tom. Shame on those receivers for dropping your golden passes."
The Freemanites are now, themselves, running out of excuses. At some point, when does the quarterback share responsiblity for an offense so impotent, Connie Chung would be offended?
Joe will leave you with these numbers: Josh Freeman is now a dreadful 6-17 against teams with a winning record for his career and an embarrassing 4-13 in road games dating back two full seasons.
This season of futility — does anyone with a sober mind really believe the Bucs are a playoff team this season? — now brings Freeman's playoff-free career to four years. Few, if any, starting quarterbacks with losing numbers like Freeman's get a fifth time at bat for a playoff push.