Irony
September 26th, 2013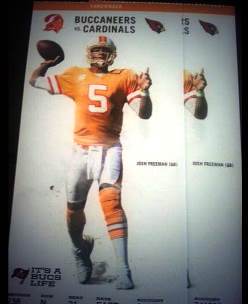 Now Joe understands this is a pure coincidence. For the debut game of rookie third round pick Mike Glennon, supplanting franchise quarterback Josh Freeman as the Bucs' starter, the actual ticket for the game is very interesting, thanks to a catch by Jason Lisk of TheBigLead.com.
Josh Freeman was benched yesterday by head coach Greg Schiano. If you have a game ticket for this week's home game against the Arizona Cardinals, you might just have a picture of Josh Freeman, in the orange creamsicle uniform, looking at you as you enter the game to see Mike Glennon's first career start.

You can see that the ticket also markets this as the "Throwback Game". That would make this ticket 0-fer Sunday.

Last week, it was announced that the Buccaneers would not be doing the throwback game this year, because of a new league policy that players should wear the same helmet all year. Switching from the pewter helmet color to the all-white background Bucco Bruce swashbuckler would have been too difficult, and the team didn't want to go with the same helmet while wearing the throwback uniform.
Joe finds the irony funny. The Bucs want Bucs fans to move past Freeman. After all, Schiano refused to even touch the subject today, claiming he spent sufficient time discussing the issue on Wednesday. Yet there Freeman will be in the hands of thousands of fans.
And like he did with DJ Toes on the Line, the moment Freeman leaves and Schiano is asked about the transaction, Schiano will say he doesn't discuss players that are not on his roster.
And the door to the Josh Freeman Era in Tampa Bay will be shut, slammed, dead-bolted shut.