Greg Schiano "Outstanding" But…
September 22nd, 2013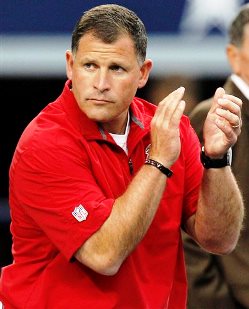 Bucs fans are still griping about the Bucs choking away two wins to start the 2013 season. That quashed the hopes of many fans just eight days into the season. as history suggests the Bucs already are playing for a draft pick next spring.
The Buccaneers have never recovered from an 0-2 start to make the playoffs. No team in the past four years has started 0-2 and made the playoffs. In the past three years, every team that started 0-2 finished with a losing record.
If the Bucs lose today, Joe cannot envision the Bucs getting back into the playoff race in the strong and stacked NFC.
A lot of fans are angry with Bucs coach Greg Schiano. They believe he is playing not to lose, thus you lose. Former NFL wide receiver and NFL Network analyst Sterling Sharpe doesn't disagree. Speaking last week on the "Booger and Rich Show," heard locally on WHFS-FM 98.7, Sharpe lauded the job Schiano has done with the Bucs defense but he agrees with fans who blame Schiano for the losing. 
Booger McFarland: What does it say that Greg Schiano is 0-5 in games decided by three points or less? What does it say about him as a coach?

Sterling Sharpe: [Stinking Panthers coach] Ron Rivera is going through the same thing. I think it says something about your mental toughness. What I mean by mental toughness is being able to get over the hump. Get your guys to understand that it is one play from here to there. "We got ourselves in a position to win the game, let's win it. Let's do it."

I look at Greg Schiano and I think he is an outstanding coach in our league. But the way his teams perform down the stretch in close games, I can't put that on anyone but him. Maybe it is a few more seconds on the four-minute offense or a few more seconds on the two-minute offense or whatever the case may be. But it is a button he is not pushing which is the reason why they are not winning close games.
Is Schiano a bad coach? No. Look, he took over a completely garbage defense a year ago and turned that defense into the No. 1 rush defense in the NFL. Last year the Bucs stunk at putting pressure on the quarterback, but after two weeks, the Bucs lead the NFL in sacks.
That right there shows Joe that Schiano has made significant accomplishments since he's been here. Joe also knows Team Glazer has never ousted a coach with less than three seasons at the helm of the Bucs.