Freeman Has "Two Or Three More Weeks"
September 21st, 2013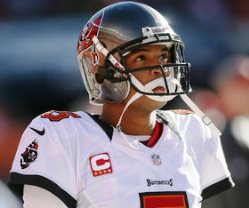 Unless something drastic happens, Tampa Tribune Bucs beat man, the "Custodian of Canton," eye-RAH! Kaufman, is of the belief that the Josh Freeman era in Tampa Bay could come to an end.
Off to a rocky start to the 2013 season, the Bucs franchise quarterback already was the center of controversy between his arch defenders, the Freemanites, and his mortal enemies, the Mike Glennon Mob.
Now with the Bucs facing a very likely win-or-plan-for-the-draft game against Bill Belicheat and the Patriots, Kaufman told the one and only Chris "Mad Dog" Russo earlier this week, heard exclusively on SiriusXM Radio, that if Freeman doesn't turn things around, he could be benched as the Bucs enter their bye week the first week of October.
"I'm here to tell you that through two weeks, [Freeman is] playing terrible. He's playing terrible," Kaufman said. "He's completing 45 percent of his passes. Chris, the league average is 60! You can't win throwing 45 percent completions!

"Chris, he's got a couple of weeks to salvage his career in Tampa. If he wants to stay here — which I don't think he does any more; he'll have that decision as a free agent next year — after two or three more weeks and Schiano is probably going to turn to Glennon. And who can blame him at that point?"
Now Joe never thought of this before, but if the Bucs are 0-4 entering the bye week, if a quarterback change was going to happen, that may be the best time for it as Glennon would have roughly two weeks to prepare for a home game with the now reeling Philadelphia Eagles.
The Eagles have a rotten defense. That may be the time to enter Glennon as a win over any NFL team, regardless of who it is, would give him a modicum of confidence.
Joe's not saying this will happen, but Joe does find it interesting that a longtime Bucs beat writer like Kaufman who has his a hand on the pulse of the team would suggest that.