Freeman "Blindsided" By Benching
September 26th, 2013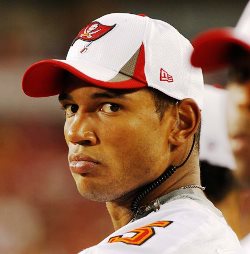 When it was learned that former Bucs franchise quarterback Josh Freeman was benched in favor of rookie third round draft pick Mike Glennon yesterday, it took virtually every Bucs fan by surprise.
Bucs commander Greg Schiano was so adamant when stating this week — several times –that Freeman was his starting quarterback, the timing yesterday really shocked people.
But perhaps none more so than the victim (?) himself, Freeman. That's what WalterFootball.com's Charlie Campbell has learned working his sources.
It was something that was inevitable; Freeman's off-the-field issues aside, he had been playing terrible football. His inability to read defenses and be consistently accurate was alarming. I just thought Freeman would be benched after the bye, so I'm a bit surprised by the timing of it. Freeman was as well. According to Charlie's sources, Freeman was "blindsided" by this.

So, is Glennon an improvement? Perhaps he could be in the future. Glennon isn't mobile at all, but he has a big arm. Unfortunately, he doesn't use it. He settles for checkdowns way too often, which will undoubtedly frustrate Vincent Jackson and Mike Williams in the short term. Oh, and speaking of Jackson, he suffered a rib injury last week. Adam Schefter indicated that Jackson could play in this contest, but there's always a chance he won't be 100 percent. Considering that he has to deal with Patrick Peterson, it's safe to assume Jackson won't produce much in this matchup.

Considering that Jackson is hurt and Glennon is making first start, the offense will be extremely limited. The Cardinals are seventh versus the run (3.4 YPC), so even Doug Martin won't be able to generate much.
Maybe Freeman was taking Schiano at his word Monday like the rest of the Tampa Bay region?
It was only after watching more film Monday evening and then consulting with Bucs rock star general manager Mark Dominik and Team Glazer that Schiano then made the decision to make a move
And to "blindside" Freeman.