Pewter Report: Dominik Should Axe Schiano If 0-5
September 30th, 2013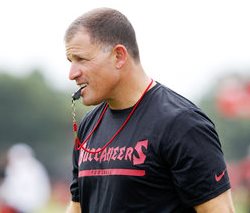 Joe knows after (if not before) the 13-10 loss to the Desert Rats, legions of Bucs fans came out of the woodwork to demand the ousting of Bucs commander Greg Schiano, if not his entire coaching staff.
Well, the fans are not alone. In a scathing column on the Bucs coaches typed prior to yesterday's game, PewterReport.com chieftan Scott Reynolds skinned Schiano, quarterbacks coach John McNulty, receivers coach John Garrett and offensive coordinator Mike Sullivan.
Reynolds even includes a quote from McNulty prior to training camp (one Joe shared back then, too) saying his job is not to correct a quarterback's mechanics. No wonder Freeman played so awful!
But Reynolds saves his biggest assault for the Bucs commander. Reynolds writes in no uncertain terms that if the Bucs lose (again) in their first game out of the bye week to the Eagles, that Bucs rock star general manager Mark Dominik needs to fire Schiano.
Not only would the Bucs be 0-5 this year, they would be 1-10 in the last 11 games under Schiano dating back to last year. That's absolutely ludicrous for a team with as much talent as Tampa Bay has, and coaching – and the disconnect between Schiano and the players – would be to blame.

If Tampa Bay starts the season 0-5 Schiano needs to be fired in-season and replaced with Dave Wannstedt in October as the interim head coach. In my eyes Glennon shouldn't be used as an excuse to buy more time for Schiano if the team whimpers to a 1-10 record in the last 11 games. Enough time. Too many losses.

At 0-5, it's time for general manager Mark Dominik to show some guts, end the ridiculous media circus and constant distractions in Tampa Bay and fire Schiano, or have the Glazers admit their mistake and move on in 2014 to pursue Bill Cowher or a head coaching candidate that actually has had success in the NFL
Has Schiano done a good job? Well, with the offense, no way. A lack of coaching has hurt less than poor personnel decisions (Kevin Ogletree). Defensively, he has done a fine job (does anyone remember how pathetic the Bucs defense was in the last year of the embarrassing Raheem Morris regime?).
At the end of the day, though, it is all about wins and losses and losing 10 of 11 games is certainly encroaching into Morris territory (he lost 10 straight and was shown the door, rightfully so).
The thing is, does Dominik wield that kind of power? Notice he and Schiano went to Team Glazer to have them sign off on defrocking Freeman of his franchise quarterback title. If Dominik had to do that, then one would think he certainly would have to get Team Glazer to sign off on a coaching change in midseason, something Team Glazer has never done.
Never has Team Glazer jettisoned a coach before said coach had three full seasons wearing a whistle around his neck. Schiano is currently in his second year.
Joe is not saying it won't happen, but history suggests Schiano won't get fired in October.
Hell, the way Joe looks at it, if you are going to lose, lose big and lock in a decent draft position. No sense in finishing close to .500 and drafting in the middle of the pack.