"Certainly Something Significant" Wrong
September 27th, 2013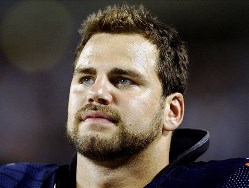 Gabe Carimi started at left guard for the Bucs in the opening two games, but he's sort of disappeared for nearly two weeks with an undisclosed illness.
"He's been out all this time. So it's not something, it's certainly something significant," Schiano said today. "But other than that I can't go into more." 
Is it MRSA-related? Schiano was asked. "No," replied the head coach.
There are rules — written and unwritten — that prevent teams from revealing non-football issues that keep players off the field.
Joe can only hope Carimi isn't in a life-threatening physical or mental condition.