Blitzes, Blitzes And More Blitzes
September 8th, 2013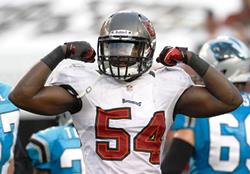 The NFL Network Playbook crew took a deep Xs and Os look at today's Jets-Bucs matchup. Video here. It's their usual great stuff.
Among other things, they outline how Jets rookie QB Geno Smith struggled mightily against various blitzes in preseason. The consensus is that Greg Schiano will dial up all kinds of blitz looks — more variety than volume — the kind Smith never saw at West Virginia.
Joe can't disagree. And Joe also expects the Bucs' run blitzes to come all day long to force passing downs on young Smith.
It's going to be a very busy day for Jets tight end DJ Toes One The Line Kellen Winslow and whatever cornerback the Bucs put opposite Darrelle Revis.