Bailing On Josh Freeman
September 13th, 2013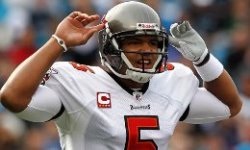 Not so long ago, Super Bowl-winning coach Brian Billick was firmly in the corner of now embattled Bucs franchise quarterback Josh Freeman. At one Super Bowl media day, Billick raved to Joe about what a quarterback Freeman is.
Now, Billick seems to have lost faith in the Bucs' signal-caller.
Whether it's the recent drama that has encircled Freeman, or his 6-15 record against winning teams or his 4-12 road record in his last 16 games or his 5-12 record in the month of December, Billick, writing for NFL.com, believes Freeman is one of a small group of quarterbacks that could very likely have new a residential addresses next summer.
In Tampa, it's an even tougher case. Josh Freeman is the centerpiece of the franchise, though he came on board before coach Greg Schiano arrived. The fifth-year quarterback was voted a team captain in each of the past three seasons, but his teammates did not give him that designation this time around. And last Sunday, Freeman looked underwhelming in Tampa Bay's crushing loss to the Jets.

There's growing concern over Freeman's long-term viability in Tampa Bay; with a few more games like Sunday's clunker, some will start calling for rookie Mike Glennon. Schiano held Freeman accountable in his Monday press conference, saying that "we missed open guys" and "you're going to have to be able to throw the football effectively, consistently, accurately." Now, Schiano called out other elements of the team's play, too, including in pass protection, but in sum, he did not sound like a coach who was full of confidence in his quarterback.

Freeman is different than Gabbert in that he has shown, in previous seasons, both the leadership skills and physical ability to be a successful quarterback in the NFL. Freeman bears a lot of similarities to Buffalo Bills rookie EJ Manuel — both have all the tools (size, arm, intelligence) to be successful in the league. Freeman set the bar high in 2010 — throwing 25 touchdown passes to just six interceptions — but he has not been able to maintain that, tossing 44 touchdown passes to 40 interceptions since then. There's more pressure this season, because the team isn't just determining if Freeman is right for this year — the Bucs must decide if he's right for the next four or five years. Sunday's game in the Meadowlands was a bumpy start to that process.
The following crossed Joe's mind when he heard Schiano admit that Freeman has missed team functions other than the recent team photo (as have other players; Davin Joseph admitted to tardiness at other events), but wasn't specific: If players do silly things, Schiano is not going to lie to cover up someone's misdeeds. Now Schiano isn't going to issue a press release every time a player messes up or begin a press conference announcing a player's misstep.
But if Schiano is asked about a player, how he behaved, Schiano isn't going to cover for him, either.
How refreshing that a coach actually treats adults like adults. Don't goof up, and you won't be talked about publicly in a negative light.