Superior, Honest Data Recovery; Flat Rate $299! Pay Nothing Up Front!
August 15th, 2013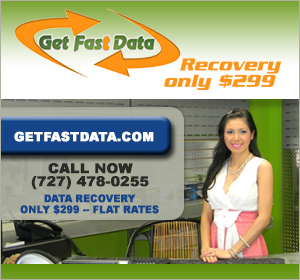 This spectacular offer comes from a fantastic reputable company. Joe's very impressed by GetFastData.com, which is equipped with cutting edge data recovery technology, complemented by loads of experience. Visit GetFastData.com now, or call now to talk through your needs. You'll pay NOTHING up front, and will only pay when your data is recovered.
And if you have virus issues and need computer repair, visit their friends at PascoPC.com.