Struggling Freeman Will Be In "Jeopardy"
August 5th, 2013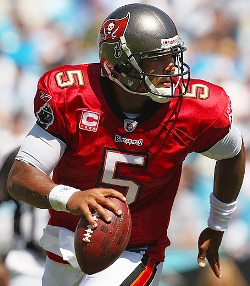 Last week, Josh Freeman may have had the best four days of practice Joe has ever seen from No. 5. The first day in the stretch, after a really erratic, rough start to training camp, Freeman was much better. The second day, he took another step. Third practice, it was as if Drew Brees was playing in Freeman's jersey, the Bucs signal-caller was so hot.
Pass after pass after pass hit receivers in the hands, in the numbers, placed where only a receiver had a chance at the ball and the defensive back was helpless. It was beautiful and Joe was floored by Freemans accuracy.
Well, if one is to believe Olive oil-lapping, popcorn-munching, coffee-slurping, fried-chicken-eating, oatmeal-loving, circle-jerking, beer-chugging, cricket-watching, scone-loathing, college football-naïve, baseball box score-reading Peter King, of Sports Illustrated and NBC Sports fame, if Freeman doesn't have the same degree of accuracy to start the regular season, Freeman's job with the Bucs is in "jeopardy," so King typed on his fancy new yet mostly tedious and stuffy website, theMMQB.com.
5. I think if I'm Josh Freeman, I know I have to impress my coach and GM in camp—and early in this season—to have a good chance to be the Bucs' quarterback long-term. GM Mark Dominik says the team won't address Freeman's contract situation until after the season, which is smart. They need time to make a complete judgment. If he's shaky early, his job will be in jeopardy, and he'll never get an extension then.
Joe understands King's take, but if Freeman has a marginal or perhaps a below-average season and the Bucs make the playoffs, Joe doesn't believe Freeman's days are done in Tampa Bay. If anything, it gives Bucs rock star general manager Mark Dominik leverage for a team-friendly contract.
If Freeman struggles, just what team will throw a bag of cash at him? Likely none, so Dominik will have all the bargaining. For Freeman not to return, he would have to have a positively horrid year and the Bucs would have to greatly regress.