Schiano: Practice Vs. Pats = Half The Risk
August 13th, 2013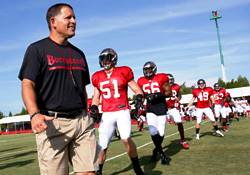 The Bucs will practice with the Patriots in New England today under cloudy skies. The temperature will be in the upper 60s.
Taking the Bucs to cool weather is not the only way that Greg Schiano is going easy on his team.
Practicing against the Patriots for two days means lessened risk to his players, Schiano told SiriusXM NFL Radio on Saturday.
"You cut your risk in half, because you're not hitting each other. So, you know, it's a lot of good," Schiano said. "And quite frankly, I don't mind getting up there and out of this heat a little bit. I mean, I like it. But in training camp to get them feeling a little bit better about their bodies, hopefully that'll happen as well."
Of course, Schiano makes sense here. But it's interesting to Joe that Bill Belicheat and Schiano, guys who are viewed as tough guy, taskmaster coaches, are into the joint practice thing that cuts players reps in a big way. The Patriots and Eagles practiced with each other last week before their preseason game.
Perhaps the biggest benefit to squaring off against New England in practice is Josh Freeman getting different defensive looks. The Patriots defense is very different from the one Freeman sees daily. If these next two days lead to Freeman building more confidence, then the Bucs will have really benefited. On that note, Joe hopes Aqib Talib is matched up against Vincent Jackson.