Davin Joseph Trying To Be Patient
August 13th, 2013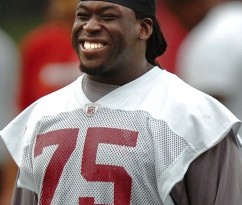 One of the coolest cats on the Bucs roster is guard Davin Joseph. With his menacing dreads and his big size, he is not the kind of dude you would want to face in a dark alley.
Joseph, however, is the direct opposite of his intimidating look. Polite, kind, intelligent, Joseph is always willing to talk to Joe and it's hard for Joseph to wipe that seemingly perpetual smile off of his face.
Joseph, like Revis, has been limited in training camp practices, often relegated to the Tour de Schiano, a row of stationary bikes near the practice fields. Also like Revis, Joseph is chomping at the bit to drill a defensive tackle, but he's on a specific rehab plan.
"I understand why we're doing what we are doing, I understand that," Joseph said. "Football is football. It's not safe, and it's a very physical sport. I take the advice of the trainers and the strength and conditioning staff about my plan as far as easing back into football and getting used to everything. Right now, I feel like we're in the right place. With the other guys, they look really good, so I'm pretty confident that we'll be ready whenever it counts."
That may change for Joseph after the Bucs return from New England. If all goes well, Joseph's rehab could be accelerated.
"I think we got to revise at the end of this week and see how we're doing from there," Joseph said. "Going off the last five days or so, there's a high chance that I'll get back to working real soon."
Not many players would be agitated about missing preseason but Joseph is one of them. He noted that preseason is vital for a team to gel and for players to improve, and he realizes he has missed out.
"I value preseason," Joseph said. "I think I need it, so we'll see. We'll see. Knock off some the rust, get used to having the adrenaline flowing, also going at the game pace and hitting somebody other than our team, and all that stuff. I think I need it, but like I said, I think we'll revisit that at the end of the week."