No Margin For Error With Underwood
August 27th, 2013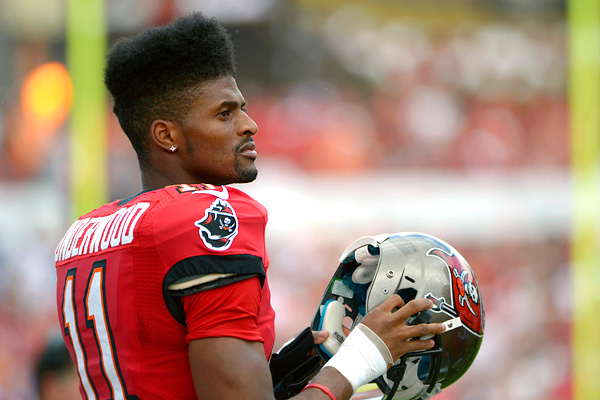 Yes, the Bucs will get down to the 75-man roster today, officially, and then whittle down to the final 53-man roster next week.
One would think wide receiver Tiquan Underwood is safe. A nagging injury to Chris Owusu and Kevin Ogletree having a bad case of the dropsies in games, has pretty much cemented for a job for Underwood with the Bucs this season.
Underwood isn't taking a chance. The fact the Bucs cut him last year is still fresh in his memory. Thus, Thursday's preseason finale against the Redskins is not a formality for Underwood.
"As a player, whenever you are playing in a game, No. 1, you try to get your job done," Underwood said. "Just stay consistent. Thursday night's game is no different than any other. Put your best foot forward and try not to make any mental errors. Win you one-on-one battles and go from there."
This year, seemingly in an effort to upgrade the No. 3 wide receiver slot, the Bucs brought in competition, namely the aforementioned Ogletree, who joined Owusu. Underwood thought they helped improve his skillset.
"Competition is always good," Underwood said. "It brings out the best in players. You just have to go out there and put out a good performance and let the decisions be made. Just go out there and play free."
On face value, it could be tricky for Underwood against the Redskins, and not because of the future truck drivers of America he will be facing. Underwood is used to Bucs franchise quarterback Josh Freeman throwing him passes, not backups like the hero of the Mike Glennon Mob, Mike Glennon, or Dan Orlovsky.
Underwood dismissed that notion.
"As a receiver it doesn't matter who is throwing the ball," Underwood said. "If the ball is in the air, make a play. Catch the ball. Doesn't matter who is the quarterback, just go out there and play hard and play to the best of your ability."
Showing his versatility, his ability to stay injury-free ,and his ability to catch when the lights are on, just may give Underwood an edge over Ogletree and Owusu, Joe believes.
But "The Turk," who is looming, may have other ideas.