News And Notes On Bucs Practice Day 9
August 3rd, 2013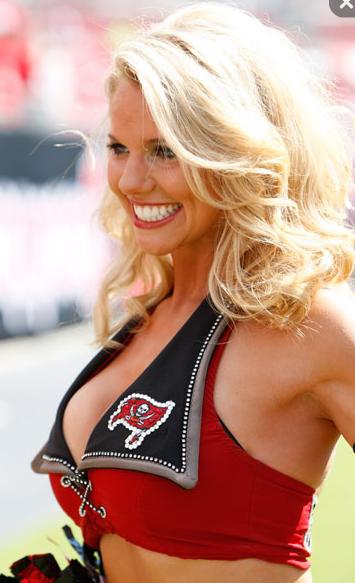 Here are sights and nuggets and news from Bucs training camp 2013 practice Day 9. No, Joe is not doing push-ups.
* Just saw a young lad wearing a Darrelle Revis jersey at Bucs practice, albeit a Jets jersey.
* Darrelle Revis is in full pads but thus far only participating in walkthroughs. He usually is "guarding" Kevin Ogletree.
* Revis tripped and fell awkwardly, yelling "Oh!" and fans in bleachers audibly gasped. He's fine.
* In a hurry-up drill, JF5 had pass tipped, intended for Chris Owusu and he still nearly came down with catch. Next play another tip. Pick by Ahmad Black.
* Nobody open for Mike Glennon and under pressure he unloads the ball. Smart. Live to fight another day.
* Dashon Goldson and Gerald McCoy bump into each other and the ground-shaking was registered at nearby TIA.
* Chris Owusu Show today. Catches bomb from Freeman on left sideline. TD.
* Rashaan Melvin reacts to JF5 pass for Owusu beautifully and has a pick. Right now your two non-starter stars of camp are Owusu & Melvin.
* Um, yes Freeman is tall. That doesn't mean you should try to snap the ball over his head.
* Does the play of Rashaan Melvin, who has same measurables as Nine Lives Myron Lewis, measurable coaches love, signal the end of Myron Era? Lotta time left before the cutdown to the final 53. A month in fact.
* Doug Martin short pass from JF5 along left sideline TD. This guy is ready for the Jets.
* Somebody screwed up and entire team has to do a penance of pushups.
* Carl Nicks participated in some 11-on-11 drills.
* Owusu beautiful juggling catch over the middle while falling down. Lynn Swann would approve.
* More pushups for entire team after hollering from Schiano. Crowd applauds the discipline.
* Eric Page is blasted by Anthony Gaitor on a helmet to helmet hit. Roger Goodell hates them but (non)paying customers sure don't. Crowd "ooohhhsss" the loudest all training camp.
* Glennon threads needle along right sideline to Terriun Crump.
* Schiano calls entire team into a huddle at midfield and is doing pushups.
* Fans starting to sink into a humidity coma as practice hits a lull.
* Doug Martin tries to run right but is caught from behind from the weakside by GMC.
* Owusu wide open over middle but pass from JF5 too high. Rare misses by Freeman this week.
* Da'Quan Bowers is limping. He later returns to practice.
* JF5 goes low for Kevin Ogletree to the left but Rashaan Melvin goes lower and bats pass away.
* More push-ups!
* Jonathan Casillas nice read and tackle.
* Mike James with a nice little run to right. He is getting a lot of work this week. Captain of the inactive list Michael Smith? Not so much. Feel free to do math here.
* "OFFENSE: BALL SECURITY. LET'S GO!"
* Owusu catches bullet from Freeman (nearly broken up by speedy Leonard Johnson) along left side, gets loose and trips. Big gain, though.
*Glennon on a roll out (!) right and hits Erik Lorig who is blasted out of bounds by Najee Goode.
* CB Branden Smith catches tipped pass off David Douglass hands from Glennon and takes pick to the house along right sideline.
* More push-ups!
* "Eight seconds left, zero timeouts!"
* Fake crowd noise!
* Derek Hagan skies high for a catch in traffic. TD!
* Owusu with a TD catch.
* Josh Freeman pass batted down by Steven Means at right defensive end.