Lavonte David Getting Rave Reviews
August 6th, 2013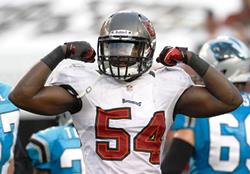 In 2011, the Bucs linebacker unit was no less than disgraceful. For every play Geno Hayes made, he blew three. Rookie middle linebacker Mason Foter was not only playing out of position at the time, he was also overwhelmed. Quincy Black was lost.
Things began to change last year when rookie Lavonte David almost single-handedly turned the Bucs into the most fearsome rush defense in the NFL. There was no question David, even as a rookie, was the best linebacker on the roster, and one could argue he was the Bucs' best defender.
Greg Schiano thought so much of David, as a rookie no less, David called defensive plays from Week 1.
Impressed by David as a rookie? Well, hold on. He should even be better than last year.
"Without a doubt," Bucs linebacker Dekoda Watson said after practice today. "He is a lot smarter than he was last year and that's not to say he was dumb or anything. He is way ahead of a lot of us. He is still climbing that ladder. He is a phenomenal player.
"He is our leader. He is the leading tackler on the team. When he speaks, people listen. He doesn't speak a lot but when he does, it is meaningful. So he is definitely a leader."
Even Bucs coach Greg Schiano simply gushed about David during his daily post-practice press conference.
"Well, I think Lavonte is a really good football player," Schiano said. "You can see improvement in his game, which I thought he played very well last year. But, he's better now than he was any time last year, which is good for us. Physical, can run, smart, loves the game, studies the game. Those are pretty good traits to have."
Joe never in his life thought he would see the next Derrick Brooks. But the second-year linebacker out of Nebraska seems to be a Brooks clone. He has every quality Brooks possessed. Though it may be heresy, David may just be the second coming of Brooks.