Josh Freeman And Divorces
August 28th, 2013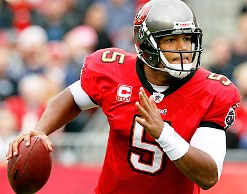 Above all, Joe likes good writing. In Joe's eyes, a good column should do one of five things: p!ss you off, make you cry, expose a fraud, make you laugh, or right a wrong. If one of those goals is not met, then said columnist wasted his time.
And no, writing a glorified feature piece about some player's grandmother knitting near a radio listening to her grandson's exploits at Northeast Cornfield State doesn't cut it, which brings Joe to the outspoken Alan Dell of the Bradenton Herald. He's unafraid to fire a few roundhouse rights when he needs to, and he certainly brings a different perspective on the Bucs.
Recently, Dell compared Bucs fans to jilted lovers and the suitor in question is Bucs franchise quarterback Josh Freeman.
There was a stretch last year when the Bucs went 6-1 and Freeman threw 16 touchdowns and was picked off only three times. A miracle worker was being sprouted from the grounds of Raymond James Stadium, his supporters argued.

But then there was that run at the end of the season when the Bucs lost five of six. He threw nine interceptions and five TD passes that included back-to-back four-interception games, including one against New Orleans' woeful defense. In an early-season loss to Dallas, we saw glimpses of problems when he was 10 for 28 for 110 yards.

The inconsistency has sent the Tampa Bay faithful into a tizzy. It's like trying to love your wife while she constantly cheats on you. They want to adore Freeman and take him into their arms, but he keeps giving them reasons not to put their faith in him.
Joe is pretty sure some of that inconsistency will melt away this year. Mike Williams has been vocal about how he and Freeman have mindmelded on the field, it's as if they are thinking as one, or as Williams put it, he is throwing the ball to himself.
David Joseph noted the Bucs have barely cracked open their playbooks. What fans have seen from the Bucs' offense is barely a glimpse.
Joe believes part of Bucs fans going so nuts over Freeman is the anticipation of the coming season. The journey to the future begins in 11 days.