Darrelle Revis Takes "Huge Step"
August 20th, 2013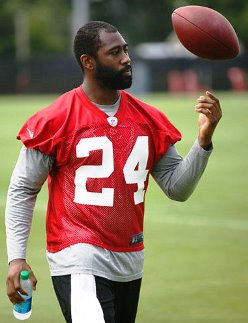 A big training camp theme was the health of stud cornerback Darrelle Revis. The Bucs were cautious with Revis since arrived, held him to a rigid workout program, and he has yet to hit anyone in drills.
But that changed Monday. Revis participated in normal drills and afterwards, Bucs coach Greg Schiano said that if Revis insisted, he wouldn't stand in Revis' way of playing Saturday at Miami. Tom Krasniqi of WDAE-AM 620 delivered additional details of how far Revis has come in a short time.
In his own words, Revis took a "huge step" forward with his rehab on Monday. He took part in team drills and says his knee feels fine. "No soreness at the end of practice and no swelling. I think it's a huge step," Revis said. Revis says he matched up against Vincent Jackson at times during practice. His reps were limited and it was a no-contact day for Revis.

Schiano says they're trying to ease Revis back in. "What we need to make sure is that when we do get him back to playing that's it's not full-bore, right out of the gate because he hasn't trained to do that," said Schiano. "We're going to have to be smart. But I think we've handled that well and we just have to continue and so much of it depends on Darrelle's feedback to us. He lets us know how he feels and we adjust accordingly. I can tell you, there's nobody in the world who wants to play more than Darrelle Revis."
This is nothing but good news. As rancid as the Bucs secondary was last year, and after seeing Pats quarterback Tom Brady carve up the Bucs last week, Revis is sorely needed.
Revis very well could turn the fortunes of the Bucs' poor pass defense around if he is healthy. Dude is that good.