Center "Only" For Jeremy Zuttah
August 21st, 2013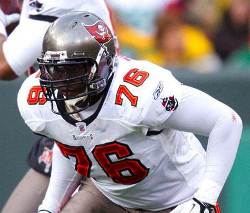 Blistergate likely has many Bucs fans expecting Jeremy Zuttah to again ditch his job at center and move to left guard if/when Carl Nicks is unavailable Week 1 against the Jets.
Hold on, Zuttah told Joe today.
Zuttah has been playing center exclusively this season and is not taking reps at left guard, and moving there is not in the plan to the best of his knowledge.
Would moving to left guard be second nature, Jeremy?
"No second nature," Zuttah said. "I mean you do something else for so long that if you have to switch you need reps to get back to it. As of now I'm only playing center."
Ted Larsen would be next in line behind Nicks at left guard. Bucs fans would be hoping he could recapture his 2010 form their when he spent a chunk of the season there when Zuttah moved from guard to center for injured Jeff Faine.
Zuttah went on to make it clear that he wants to settle in at center this season and master the position. Joe hopes Chucky's final third-round pick gets the chance to do just that.