Bucs Disappointed In Da'Quan Bowers
August 1st, 2013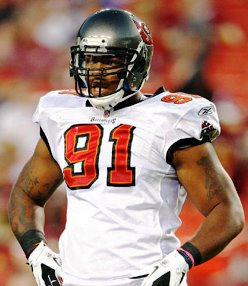 There is no question the Bucs needed and wanted to upgrade their defensive pass rush. The Bucs are so intent on getting heat on quarterbacks, former front-seven coach Bryan Cox, arguably the Bucs' best defensive assistant, was given a new title and new assignment: He solely and only works on pass rush drills and coaching.
By letting last year's sack leader Michael Bennett walk away, the Bucs have put a lot of faith (and pressure) on Da'Quan Bowers, who has been nagged by injuries since he was drafted in 2011.
It was a controversial move and reading into a piece on now-injured Adrian Clayborn typed by Woody Cummings of the Tampa Tribune, it seems Bucs coaches are not doing backflips over Bowers' practices after the first week of training camp.
In at least one case up front, the Bucs still aren't sure if their No. 1 guy is worthy. That's at left end, where third-year pro Da'Quan Bowers has replaced Bennett. The Bucs think Bowers is ready to make an impact as an edge rusher and run stopper, but his play through the first week of training camp has not necessarily been up to their standards.

"He's played at a high level (in the past), but he's done it as a situational pass rusher," Schiano said. "Now, he has to learn how to play down after down and still be a situational pass rusher.

"Situational pass rusher is not a bad deal. You go out there, and 95 percent of the time they throw the ball. So, you don't have to worry about stopping the run. You don't have to do the dirty work. When you get to where you're a first- and second-down player as well as a pass rusher, well, then your world really gets harder. So, we'll see."
This is the biggest question on the defensive side of the ball outside of Darrelle Revis' knee. Can Bowers live up to his talent? It seems, per Cummings' article, a bit of doubt has crept into the minds of coaches.
Look, Joe knows there is a long, long road to go before the Bucs play the Jets to open the season in New Jersey. One bad week of practice does not a season make.
But the Bucs, namely Bucs rock star general manager Mark Dominik, put a lot of eggs into Bowers' basket, rather than signing someone like John Abraham, who was dangling on the line all summer for the Bucs (or any team) to sign.
It was, and is, a gamble. A very big and perhaps a very costly gamble.