Blister Pops Nicks' Progress
August 19th, 2013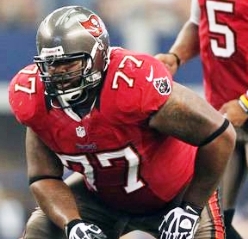 The ugly Carl Nicks toe heard 'round the Bucs locker room cost Nicks about half a season last year, sent him under the knife, and left him with a lifetime injury.
But things have gotten worse for Nicks.
Revealed today at One Buc Palace, Nicks has an infected blister that's "not your common injury," Greg Schiano told media.
The blister, per Schiano, is on the side of the Nicks' foot.
"We gotta let the medicine run its course," Schiano said of Nicks' future.
Joe chatted with Davin Joseph today about the importance of preseason action, and Joseph gets a chuckle out of how fans put so much stock into it.
Hopefully, Nicks' latest injury is something to laugh off. Bucs fans will find out soon.