Akeem Spence On The Rise
August 27th, 2013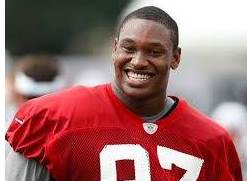 You know how the four-letter draft analysts come around in the weeks leading up to the draft — you know the kind, like the fraud that got a grand total of two first round picks correct last spring — and talk about how players are rising or falling, despite the fact teams have their draft boards pretty much set?
Well, if one was to use the same jargon with rookies a little more than a week out from their first NFL regular season game, Bucs defensive tackle Akeem Spence is on the rise. And this is not fabricated news forced by orders from suits.
No, Bucs fans and scribes who watch a lot of Bucs football can see the rookie from Illinois blossoming on the football field. Dapper Rick Brown of the Lakeland Ledger writes about how Spence is showing up with his play but still has work to do.
The thing is, he's gotten better each game starting beside Pro Bowler Gerald McCoy. Against Miami Saturday, Spence showed a burst and ability to penetrate. He was attacking and chasing and showing that the moment was not too big for him. While coach Greg Schiano has not named him a starter, it is no doubt who will start the regular season beside McCoy. "He's definitely playing at a high level," Schiano said. "I should say this — playing at a high level at times. he's still an inconsistent rookie. The splash plays are what people see. Losing the A-gap is what you don't see. That's what I see. Getting cut on the backside and now all of a sudden one of those stretch runs (happen)."
Spence's ability to do more than one thing is impressive. Sure, when Bucs rock star general manager Mark Dominik first let Roy Miller go, Joe was shocked because privately and publicly Bucs suits and coaches raved about Miller. So when the Bucs drafted Spence, Joe was dubious.
To see how Spence ran down a Dolphins ballcarrier in the flat — something you never saw Miller do — and as Brown pointed out, getting penetration, it appears Spence may be the steal of the Bucs' 2013 draft.