Underrated: Jimmie Giles
July 10th, 2013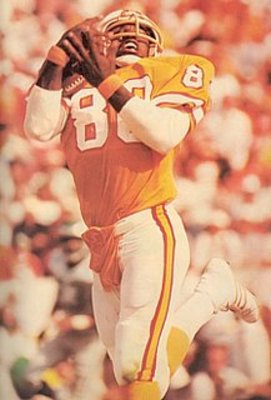 No, this is not about a silly, forced non-sports segment during another otherwise good sports radio show that chases listeners away. This is about who were the most overrated and underrated Bucs players in franchise history.
That is, if you beleive the folks from NFL.com. Dan Rachal takes care of the Bucs as NFL Network produces July filler content does a countdown each day of NFL teams' overrated/underrated players.
As one of the most underrated players, Rachal lists tight end Jimmie Giles.
Jimmie Giles — TE, 1977-86
"He's as Hall-of-Fame worthy as Ozzie Newsom or anybody else," said his former quarterback, Doug Williams. During his nine seasons in Tampa, Giles made four Pro Bowls, caught 279 passes for 4,300 yards and 34 touchdowns. His four-touchdown game against the Miami Dolphins in 1985 is still a Tampa Bay record.
One reason Joe became a Bucs fan from the cornfields of southern Illinois was Giles. Man, this dude could block! Joe could have easily seen some other team convert Giles to a guard. He was simply a crushing blocker, laying out linebackers and opening up holes for Ricky Bell.
Oh, he could catch, too. He wasn't a pass-catching weapon like so many tight ends today, but Giles was damned reliable and was a deep threat.
Now Joe knows Doug Williams is sticking up for an old teammate. Joe isn't sure Giles is Hall of Fame worthy, damn close, though. Some day, it wouldn't shock Joe if Giles got in through the Pro football Hall of Fame's senior committee, made up of nine veteran members of the overall selection committee. Ironically, Giles' first year of eligibility to be elected by the senior committee is 2014.
Getting into the Hall that way is difficult, indeed. Only two per year can be nominated to be voted in.