"The Island Is In Tampa"
July 25th, 2013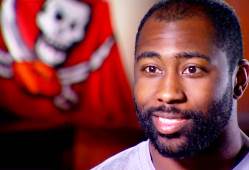 Days away from being inducted into the Pro Football Hall of Fame, Bucs great Warren Sapp, working for the NFL Network, was all over One Buc Palace today One of his duties was interviewing hopefully another future Hall of Famer, cornerback Darrelle Revis.
What Sapp wanted to know, which is also what a few Bucs fans want to know, is how the Bucs are building from the back to the front on defense. Often, teams start building on the front line and add in the defensive backfield later.
Not so with the Bucs. Revis explains why in this NFL Network video.