Stop With The Mike Glennon Chatter
July 28th, 2013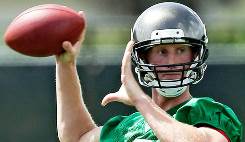 Joe knows many Bucs fans are fed up with Bucs quarterback Josh Freeman. Yes, Freeman puts up fantasy football numbers with 4,000 yards passing last year (just like immortals such as Marc Bulger, Scott Mitchell, Jay Schroeder, Steve Beuerlein, Elvis Grbac, Jon Kitna and Bill Kenney). It's his 6-15 record against teams with winning marks and his roller coaster ways that have driven many Bucs fans to flail their arms in exasperation.
To these fans, Freeman is akin to dating a beautiful girl who suffers from manic depression and is off the Zoloft. You just can't guess what the next hour will bring.
But Freeman shows enough top-shelf ability, along with it being his second season in a complex offense, where it would be moronic to bench him. Especially for a rookie quarterback who (once again) confesses he is not ready, as documented by eye-RAH! Kaufman of The Tampa Tribune.
Rookie QB Mike Glennon says he's still a long way away from learning the offense. You wouldn't have known it from watching him run the 2-minute drill during Saturday's night practice.

Against a unit of mostly second-team defenders, Glennon drove the Bucs into position for a game-tying field goal during a mock 2-minute drill, only to see K Lawrence Tynes miss a 42-yard attempt.

"I wouldn't say I have much of it down," Glennon said of the offense. "I'm understanding more and more of it every day. It's still going to be awhile, so the preseason games will be a huge help."
Look, if Freeman doesn't prove himself this year and the Bucs ownership, front office and coaching staff all concur it's time to turn the page, then it will be turned. Joe's going to guess Freeman would have to go all JaMarcus Russell for the Bucs to wave goodbye.
This fallacy that Glennon is going to beat out Freeman for the starting job this season is lunacy at its finest. It's akin to believing curvy Rachel Watson has lured Joe into her lair for some heavy-panting wrestling between the sheets.