Notes And Nuggets On Night Practice
July 27th, 2013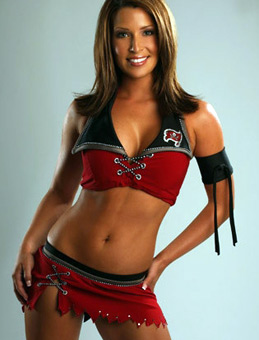 Here are observations by Joe from the Bucs night practice at the Stadium on Dale Mabry Highway.
* People who think Mike Glennon will beat out Josh Freeman need to put the bong down.
* MYRON! Tiquan Underwood roasts Nine Lives Myron Lewis for 70-yard touchdown to the right.
* Brian Leonard with a 35-yard touchdown run to the left.
* Michael Smith weaves and dodges his way to the left for a nice gain.
* Freeman with all sorts of time throws deep to the right for Vincent Jackson but broken up by a skying Leonard Johnson
* About a seven-yard gain to the left for Brian Leonard
* Freeman threads needle to the right to Williams, Leonard Johnson on coverage. First down.
* Mike Williams goes up for a ball in the crowd but cannot hang on.
* Freeman deep to Vincent Jackson who was open but way underthrown and Johnthan Banks nearly got the pick.
* Benn'd-Around to Mike Williams who wanted to throw but was run out of bounds.
* Captain of the Inactive List Michael Smith with a nice catch down the right sideline.
* Gotta hunch your Bucs starting tight end is Tom Crabtree.
* Donald Penn blasted Adrian Clayborn so physically Clayborn's helmet was knocked off.
* Derek Hagan gets past Mike Adams for a catch.
* Danny Noble catches a pass over Leonard Johnson.
* Johnthan Banks has been guarding Vincent Jackson and the rookie from Mississippi State has not been embarrassed.
* Danny Noble just worked over Cody Grimm for a catch.
* Noble tried a down-an-out on Mark Barron, getting a few steps on him but Barron quickly closed the gap and breaks up pass.
* First Gerald McCoy and now Lavonte David getting massive penetration on run drills.
* During a quarterback skills drill, the Bucs had a golf cart crossing the field with a big red target in the bed of the cart. Once, Freeman missed the target but drilled the driver of the cart. A short time later, Freeman one-hopped the ball to the golf cart which elicited audible boos from the estimated crowd of 33,000 fans.
* (Non-Bucs thought: Would the internet lock up if Johnny Football was caught doing quarters with Amanda Bynes?)
* Gene Deckerhoff just uttered the phrase "wide right." Thought that phrase was an obscenity for him?
* Cool. Bucs have random fans running agility drills through cones and tackling dummies.