Report: Eric Wright Was To Be Cut
July 19th, 2013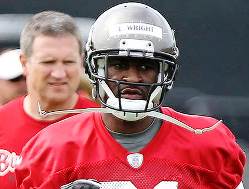 Given how he had a very team-friendly contract and, apparently, Bucs suits had grown weary of Eric Wright's me-first attitude, Joe was only surprised at the Eric Wright trade from the timing, not that the Bucs washed their hands of the mistake.
It seems Bucs rock star general manager Mark Dominik pulled off another Houdini act of trading a player who was about to be released. Well-plugged in Albert Breer of NFL Network claims the Bucs were going to cut Wright until they found a suitor in the 49ers.
@AlbertBreer: Per source, Buccaneers were planning to cut Eric Wright had they not found a trade partner.
Dominik must be breathing easy tonight. Imagine if that dope Wright hadn't been busted for Adderall (?) last year and suspended by the NFL, which kicked in a clause that the Bucs could void his two-year contract? Yes, the Bucs were awful at corner last year, and two years ago, which all but forced Dominik to overpay for Wright.
Thankfully for the Bucs and Dominik in particular, Wright was too stupid for his own good.