Once Again, Freeman Is Schiano's QB
July 3rd, 2013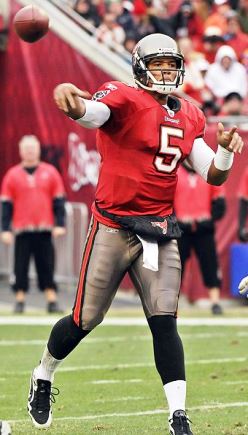 When Bucs beat writer Woody Cummings of The Tampa Tribune, vacationing at home, killing time golfing, gardening and watching his moribund Cubs, heard Bucs coach Greg Schiano give Bucs quarterback Josh Freeman a vote of confidence this week on NFL Network, it came as no surprise to him though it seemed to surprise others.
This was one Bucs topic discussed when Cummings appeared on "The Fabulous Sports Babe Show" Tuesday night on WHFS-FM 98.7.
Fabulous Sports Babe: What about Schiano saying "We have only one quarterback?"

Woody Cummings: They have, like, five on the roster or four on the roster. You know what, I am not surprised by that I think he really – I have to be honest. I think he really misjudged the way that whole situation was going to be taken when he first said, "I just don't know about Josh, I don't know if he is our guy," at the end of the season last year. I think he mischaracterized or misjudged just how that was going to be taken by the media and the fans and ever since, he has been trying to come off that statement. I thought he did it at the combine, he said basically the same thing. "Look, we went back and looked at the tape and think Josh Freeman is our guy." I know they drafted Mike Glennon because they have to have somebody back there to develop just in case he isn't the guy and proven to be not.

I am not surprised. It is a variation of a theme. It is the same thing he said at the combine. "We think Josh Freeman is our quarterback and we think he can take us where we want to go" which I assume it is a Super Bowl. He has been saying that, and variations of it, ever since. He said it after the draft. He said it at minicamp. He said it at OTAs. Now he said it again to the NFL Network. So every time he is asked the same question he gives the same answer which, you know what, I applaud him for consistency.

I just hope he is right. I just hope Josh Freeman proves he is the quarterback. I hope Josh Freeman, for his sake and the Bucs sake, goes out and proves to everybody, "Yeah, I was the quarterback all along here."
It is almost like Schiano has been backtracking ever since he demanded competition at quarterback in his 2012 season-ending press conference. Like he let the back door open and a pesky gecko got through and Schiano's been chasing the evasive reptile ever since.
Joe has written this time and again: the best chance for the Bucs to make the postseason is if Freeman has a good year, not if Mike Glennon is learning on the job.