News And Nuggets From Day Four Practice
July 28th, 2013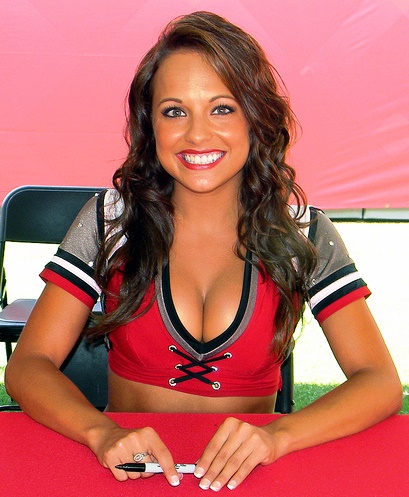 Here are some observations from Sunday morning practice on Day Four of Bucs training camp:
* "Leadership leads!" Schiano bellows as Bucs practice begins.
* "That's the way to be!" Schiano hollers.
* Odd. Didn't know this is an Indy car practice. "Turn nine. Turn nine!" Schiano yells into his bullhorn.
* Quarterbacks actually look sharp this morning, highlighted by a beautiful, Freeman bullet to Mike Williams.
* Just WR drills but sharpest QBs have looked so far in training camp. Of course, no CBs and no DLs.
* "22-YARD LINE GOING AWAY!" Schiano is fired up!
* "LET'S GO BOYS, GET YOUR @SS UP THERE AND KNOW THE PLAY. KNOW THE PLAY!!!"
* Very crisp, intense practice this morning. Almost like team got their rears chewed last night or this morning.
* Second time in three days Mike Williams is seen throwing off a Benn'd Around.
* Mike Williams runs left on Benn'd Around for minimal gain.
* Branden Smith may have gotten away with pass interference on a Freeman bomb.
* Mike Glennon beautiful bomb in stride to Chris Owusu along left sideline. Leonard Johnson on coverage.
* Chris Owusu continues to have a good camp, carrying over his solid OTAs and minicamp.
* On a crossing pattern. Leonard Johnson just gets his fingers on a Freeman pass enough to make Tiquan Underwood bobble and drop ball.
* In this passing drill, for every incompletion, offense has to run back to line and block defenders as if ball was picked or fumbled away.
* With Mark Barron taking a break and Ahmad Black with a minor ankle injury, Cody Grimm working with first team defense.
* The fake noise sounds like a roar from an AC/DC concert it is so loud.
*WR hopeful Carlton Mitchell finishes a catch and run (after the whistle) with a 50-yard full sprint to the end zone.
*TE hopeful Tim Wright fumbles in a drill that requires a reception followed by a run through a line of coaches trying to strip the ball. Not a way to make the team.
*Late in practice, Mike Sullivan wants to see energy as the Bucs' transition to new 11-on-11 work. "On the move. Let's finish. Let's finish, baby."
*Safety Keith Tandy out of position with the second team against the first team, freeing Mike Williams for a solid gain. … Tandy made up for it in coverage on the next play
*Cody Grimm spent extended time at safety with the first team alongside Mark Barron.
*No limp on Carl Nicks as he patrolled the sideline late in practice wearing flip-flops.
*Rookie CB Rashaan Melvin with clean coverage on Mike Williams. … Melvin seems to get extra attention from coaches at most practices.
*Schiano scolds/corrects the in-house official at practice.
*Tiquan Underwood beats CB Michael Adams soundly on an inside route.
*Sloppy! Officials call the Bucs' offense for an illegal shift/five men in the backfield, which was offset by DE Aaron Morgan jumping offsides.
*Mike Glennon rattled by pressure from a blitzing Sean Baker.
* MYRON! Nine Lives got bailed out of pass interference on Chris Owusu as Mike Adams was offsides.
*WR/Returner hopeful Eric Page spending a lot of time after practice getting tutored on releasing off the line of scrimmage.