Doug Martin Looking To Dominate
July 28th, 2013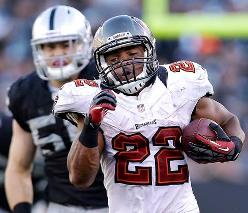 A lot of people who try to wave off Josh Freeman's struggles often state how Freeman will shine this season because it is his second year in a complex offense guided by offensive coordinator Mike Sullivan.
Joe agrees with that. It's sound logic. Buf if that applies to Freeman, shouldn't it also apply to others including Doug Martin? The Bucs' Pro Bowl running back thinks so, as he explained to Joe after practice of Day Four of Bucs training camp 2013 this afternoon.
"Definitely, I am a lot more confident, lot more comfortable out here on the field. Things are going a lot smoother. The thing I want to do is to help these guys that just got in here. Make it smoother for them," Martin said..

"Being more comfortable with being here and in the position that I am, it is definitely slowing the game down. My routes are a lot better because I know what is going on with the offense. I am more aware of the offensive scheme."
Joe knows the Bucs are looking to get Martin more touches this season, not necessarily more carries. There is a difference. Martin, the Bucs believe, could be absolutely lethal with the ball in the open field on pass routes.
If Bucs fans think Martin was a stud as a rookie last season, they may be taken aback by what they see this season.