Just Having Fun
July 27th, 2013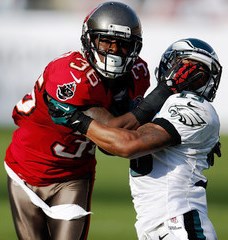 Even without Darrelle Revis on the field most of the time, Bucs fans attending training camp practices can feel a different vibe with the Bucs' secondary.
Torched worse than a Pittsburgh steel factory blast furnace last year, the Bucs' secondary may go from near-historic NFL worst to best with the additions of Dashon Goldson, Johnthan Banks and Revis.
This is not lost on cornerback Danny Gorrer. Now that Adderall-popping, spa-vegging menace Eric Wright has been flushed off the roster (gee, NFL teams are desperate for cornerbacks and he's walking the streets. Imagine.), and Banks learning the rookie ropes, Gorrer and other corners see there may be an opportunity to make the starting squad if they can elevate their games..
The one thing Gorrer has learned from Revis and Goldson is, well, to enjoy football.
"Bringing those guys [in] and their experience to the table, there's bound to be a different vibe," Gorrer said. "We're just having fun. That's what those guys bring to the table. Having fun."
Gorrer noted it's not just that projected starters Revis and Goldson have made the Bucs secondary, their presence makes other cornerbacks like himself or Leonard Johnson better..
"It definitely helps your game because you know what is on the other side of you," Gorrer said. "You will get a few more balls [thrown at you] so you better have the confidence and that's what everybody is starting to pick up in the secondary. You saw that [Friday] when a lot of DBs got their hands on the ball."
Many Bucs fans are still buzzing over the first-day highlight of Mike Williams making a one-handed, diving catch of a Josh Freeman bullet down the middle. What may be lost in that was Gorrer defending Williams and seemingly having perfect coverage on him, but Freeman and Williams both made plays; the ball was placed in the only spot Williams had a chance of catching it.
"You have to forget about it," Gorrer said with a smile. "You better have a short memory span if you are going to play corner. Even though I had good coverage, it was a good throw and catch. Hey, [Williams] got that money [new contract] for a reason. There is always the next play when you are playing my position. Hey, they get paid, too. It comes with the territory. It's both good and bad."