Is Josh Freeman Too Bottled Up?
July 11th, 2013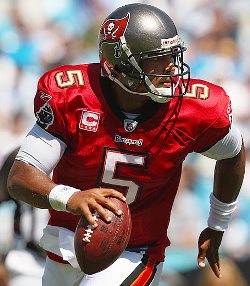 Now Joe doesn't need to rehash how important this season is for Bucs quarterback Josh Freeman. If a Bucs fan isn't aware of that by now, it's time to go back to playing Rip Van Winkle and sleeping another two decades.
Joe does know last year Greg Schiano (and perhaps also offensive coordinator Mike Sullivan) put a kibosh on Freeman from running outside the pocket.Part of this was, naturally, to keep Freeman upright. Whatever chances the Bucs had at a postseason run would have been immediately flushed down the toilet with Dan Orlovsky behind center.
Another reason for Freeman being instructed to stay in the pocket at virtually all costs is Schiano believed that was one way to cut down on Freeman's interceptions. Turnovers, in Schiano's mind, are akin to the Ebola virus.
Football guru Greg Cosell seemed to hint that may not be a good thing for Freeman.
Cosell is a producer for NFL Films and there are few better guys not employed as coaches who break down Xs and Os. Also, Cosell personally works with "Jaws," BSPN NFL analyst and former NFL quarterback Ron Jaworski. It is Jaws' ranking of Freeman at No. 21 that has so many Bucs fans rankled and Cosell appeared with Joe's good friend Justin Pawlowski of WHFS-FM 98.7 to discuss Jaws' rankings.
In the process, Cosell may have unlocked the secret to Freeman's success.
"For me, it goes back to his first full year as a starter when he had very good numbers," Cosell said. "This is my world view of the quarterback position. In his first full year as a starter, he had 25 touchdowns and only six picks. At that point there was a sense that this kid was on his way to being elite. When I looked at that year carefully after the season, I thought many of his plays came off improvisation, came off movement.

"I am not suggesting that is a negative. It is very hard to be consistent playing that way because there is such a random and arbitrary element to that. We never talk about the plays that don't work when quarterbacks move, we only talk about the plays that do work.

"I thought even in that first year he needed a lot of work as a consistent, precision pocket passer. And I think he has been very erratic in his development in that area."
Cosell may have hit the nail on the head. The thing about Freeman was, when he was out of the pocket, Freeman was making plays both with his arm and his legs. Defenses not only had to defend receivers, they had to defend Freeman running on the outside. That spread defenses out a bit, which in turn may have created more holes for receivers.
Joe just wonders if Schiano and Sullivan would allow Freeman a bit more freedom, which might could loosen things up for Freeman, thereby creating more victories in the process.