"Good Josh" And "Evil Josh"
July 29th, 2013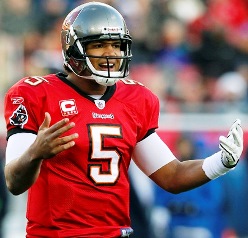 There is no question that Josh Freeman is the Bucs starting quarterback, barring an injury or him being kidnapped by aliens. The only people who harbor the misguided notion that Mike Glennon — who has said repeatedly he is not ready — will beat out Freeman in a position that has already been decided are the same types that travel to Roswell, N.M. each year to celebrate UFOs and in the wintertime, howl at the moon.
In a really accurate, well-detailed piece of research, good guy Mike Tanier — who Joe swilled craft beers with at the NFL Combine in February– goes deep under the hood of Josh Freeman writing for SportsOnEarth.com.
Tanier breaks down Freeman's up and down, manic career as "Good Josh" and "Evil Josh."
After watching several Good Josh and Evil Josh games, it was easy to reconcile and reconstitute the Real Josh. Good and evil are a matter of degree. In Freeman's best games, he completes two or three more passes down the field off play-action, gets a few extra plays by buying time with his legs or gets an early boost from a Martin catch-and-run. In his worst games, an errant sideline bomb flutters into a cornerback's hands instead of out-of-bounds. In the good games, the Buccaneers play much of the game with a lead or within a touchdown of their opponent, so the running game remains a significant factor. In the bad games, the opponent rolls out to an early lead (perhaps due to an early Freeman miscue or two), and the Buccaneers cannot rely on the running game to slow the pass rush or occupy the underneath coverage.

In good games and bad, the football field can be sliced up like a checkerboard for Freeman. The short sidelines and deep middle are his "green zones," where he is a capable passer. The short middle and deep sidelines are danger zones. Opponents appeared to figure this out last year. Freeman threw five interceptions along the short sidelines in his final three games. Rams cornerbacks were clearly baiting him to throw in front of them. When a quarterback does only a handful of things well, defenses can easily adjust.
Much like professional baseball, the NFL is all about adjustments and how players and teams deal with adjustments. As Tanier pointed out, opposing defensive coordinators found a pattern on Freeman and exploited it, which appears to have directly led to Freeman's late-season meltdown of epic proportions, costing the Bucs a chance at postseason play.
How the Bucs, and Freeman, have adjusted to that this offseason, and how the Bucs and Freeman handle adjustments by opponents during this season, largely will determine Freeman's future salary, and the Bucs' hopes of playoffs in 2014.