"Contact Is A Little Bit Of A Lost Art"
July 29th, 2013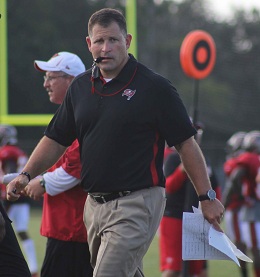 As much of a taskmaster tough guy that Greg Schiano might be, there's only so much a coach can do to drive a team in practice under the new NFL labor agreement. Training camp just ain't what it used to be when it comes to how much guys can hit each other and play, you know, real football.
Schiano lamented the loss of physical practice time a bit today with former Bucs guard Ian Beckles, co-host of the Ron and Ian show on WDAE-AM 620.
"Contact is a little bit of a lost art," Schiano said today. 
Joe remembers attending Bucs training camp at the old University of Tampa, when two-a-days were the norm and guys on the field were beating the snot out of each other. Does Joe miss that? Sure. But Joe's surely not seeing a lesser product across the NFL because of softer practices.
If anything, the change has put more importance on preseason games, which surely needed a shot in the arm.
After a 2 hour and 30 minute practice today, their fifth consecutive practice, the Bucs have Tuesday off.