Beating 49ers Personal For Sapp
July 6th, 2013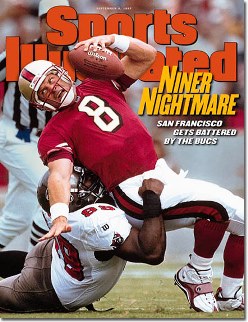 A lot of Bucs fans point to the Bucs pounding the San Francisco 49ers in the heat and humidity of a midday game at the Old Sombrero in 1997 as the turning point from the Yucs to the powerful Bucs.
Warren Sapp doesn't disagree. Sapp spoke about this and more to Joe and other reporters this spring, shortly after Sapp learned he'd be inducted into the Pro Football Hall of Fame in a few scant weeks.
While Sapp was quick to point out it took hard work off the field, lots of it, to get the Bucs over the hump, Sapp had a fire burning bright inside of him to exact revenge against the 49ers for what happened some 16 years prior.
"You talking about that summer, going 5-3 at the end of the 1996 year, and that Yuc game out in San Diego," Sapp said. "We are building it. We are coming along. I remember that summer me and Brooks coming in here. We put in some work. We put in some work that year. We were ready to roll. Warrick was with us, so we had some punch (Mike Alstott) and some wiggle. We had a little something in the backfield.

"For me, [the 49ers game] was personal. Cause I was a nine-year old kid watching [Dwight Clark's] "The Catch" to beat Dallas for the 1981 NFC title]. I was a Cowboys fan. And I cried that night. I remember my brother ragging me for the next three months. "You crybaby, you. You're soft." And I remember driving to the stadium [prior to the 1997 49ers game] I was so focused I forgot to leave my homeboy's tickets at the will call window. They went to will call and there were no tickets. I forgot the tickets I was so focused. [The 49ers] were going to pay for that."
Sapp vividly remembered the plays where he knocked out Jerry Rice and, later, was in on the tackle where Steve Young took a knee [not Sapp's] to the head. In the week leading up to the game, Sapp said then-defensive line coach Rod Marinelli harped to Sapp about stopping Rice on an end around.
In fact, Sapp has a permanent reminder of the play he sees daily.
"He's not getting around me," Sapp thought. Then, on a particular snap, "I took a bad step and I look up and he was coming. This finger [holds up a bent pinkie finger] is still crooked because of Jerry Rice's facemask. That pinkie caught it."
Sapp said he asked Rice if he wanted help up as Rice lay on the field and Sapp wasn't aware of the extent of Rice's injury. Rice did not answer Sapp's offer and Sapp said to himself, "I knew there was something wrong."