Wednesday Minicamp Practice Observations
June 12th, 2013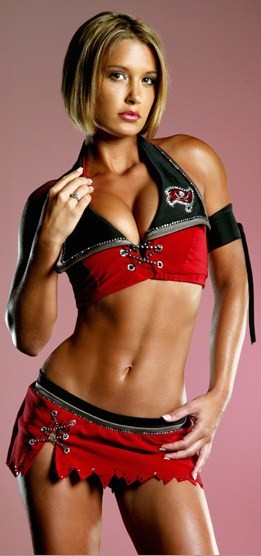 More action than usual on the fields of One Buc Palace today. The Bucs ran a lot of plays for an offseason workout. Joe took in practice, thankfully in the shade, and shares various observations below from this underwear, no-contact football event.
*"Lets go, let's go, let's go!" Practice starts with a bit more spirit today.
*Freeman with two overthrows back-to-back to Vincent Jackson and Mike Williams in a QB-rolling-left drill.
*David Douglas makes a sliding catch of a Dan Orlovsky pass over the middle
*Williams goes low to scoop up a Freeman pass over the middle.
*There's a lotta hollering going on, especially when the first string offense plays the first string defense.
*"Three wide, three wide! Nice tempo, men. Nice tempo!" Schiano bellows.
*Dekoda Watson is getting a lot of work with the first unit at SAM linebacker. VERY early indications are that the position is Watson's to lose, though Jonathan Casillas is pushing Watson.
*A Freeman pass to Williams on a slant inside goes right through Williams' hands.
*Eric Wright is now working with the first team defense.
*The coaches all but drool over Dashon Goldson but that quickly ends on one play where Goldson blasts Chris Owusu and is roundly and loudly scolded by coaches. This is supposed to be a non-contact practice after all.
*From shotgun, Freeman throws a perfect pass over the middle to Vincent Jackson.
*Bad drop by receiver hopeful Carlton Mitchell.
*Mike Glennon throws behind wide receiver Jerry Johnson. Soon after Glennon is picked by Johnthan Banks, who showed off his length on the overthrow to Zach Miller.
*Drop by WR Chris Owusu, who's been having a strong offseason, on a short Freeman pass in tight coverage with Banks covering.
* "Third and 16, third and 16!"
*Jackson beats Anthony Gaitor for a diving catch down the left side for a first down.
*Right defensive end Aaron Morgan drops into the right flat for pass coverage, bats down a Freeman pass and nearly picks it off.
*Leonard Johnson dives for, and doesn't quite reach, an errant Freeman pass to the right side.
*Brian Leonard catching a check down on 3rd and 16. Lots of work with the first team for Leonard.
*DE Steven Means had a two-hand bat down of a Mike Glennon pass.
*Another tipped Freeman pass.
*Tight end Nate Byham had a good catch and displayed good ball security in front of safety Sean Baker over the middle.
*Mr. Glennon, you cannot fumble good snaps in the NFL if you want playing time.
*Doug Martin hauls in a pass from Freeman over the middle for a touchdown in a goal line offense.
*Douglas is wide open on the left side for a short touchdown. Later, he just misses a diving catch near the backline for what would have been a touchdown from Glennon.
*Here comes the crowd noise…
*On a slant pass across the middle from Freeman, the pass is way behind Williams.
*Jackson drops a pass over the middle where he was wide open.
*Eric Page with a nasty case of alligator arms on a pass over the middle in traffic from Glennon.
*Freeman throws too low to Jheranie Boyd on the left side of the end zone to avoid Goldson pick.