Warren Sapp Mourns The Loss Of Deacon Jones
June 4th, 2013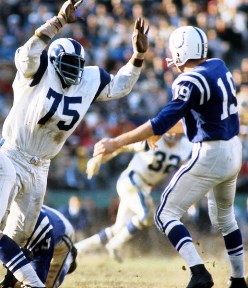 Guys who make a living burying quarterbacks have a fraternity of sorts, and the only way you can get into the fraternity is by putting signal-callers through hell.
So it's not surprising that soon-to-be Hall of Famer and Bucs icon Warren Sapp mourns the loss of the man widely regarded as the greatest sack artist of all time, David "Deacon" Jones.
"He was an absolute institution," Sapp said via NFL Media Relations. ""I patterned my game after him because if you can talk that talk & walk that walk, then you can stand beside Deacon."
Sapp looked up to Jones and had a kindred friendship, mainly over a few beers and their loathing of quarterbacks, as Sapp described in a Tampa Bay Times article back in 2002p. Back then Sapp, Jones and Bruce Smith had a pouring session over pummeling quarterbacks.
"It was one of those nights, then one of those mornings," Sapp said. "It was just us and the bartender, and he was on point. You had to be there, just to hear their passion for the game.

"I wanted to travel with them. Put me in the car too. You know? I got in the car and traveled the '70s with Deacon, then I traveled the '80s and '90s with Bruce. I came along with him through Bruce Armstrong and all the great ones he played, Richmond Webb, and all the great ones he had to rush. They're all about a nasty, tenacious rush and inflicting as much pain on the quarterback as possible. I mean, Bruce was talking about hunting Dan Marino as if Dan Marino had just slapped his mama."
Joe's football memories go back to the late 1960s. Joe can remember Joe Namath, barely Bart Starr, barely Dick Butkus, Johnny Unitas as a Chargers quarterback, but doesn't quite remember Deacon Jones.
What Joe does remember are all those wonderful NFL Films pieces of Jones where he prided himself on wanting to send quarterbacks to the hospital "with no remorse in my heart." It was because of Jones' bigger than life personality, highlighted by so many NFL Films interviews, that Jones became one of Joe's favorites.
Feel free to click on this link and fast-forward to the 39:00-mark to get to know Jones, a true character of the NFL that is lost now. When Joe last night heard of Jones' passing, Joe could remember as a kid watching NFL Films on gray, cold fall Saturday afternoons.
For reasons unknown, former Bucs sack artist Simeon Rice always reminded Joe of Deacon Jones, the personality if not the sacks.