Notes On Bucs OTA Practice Tuesday
June 4th, 2013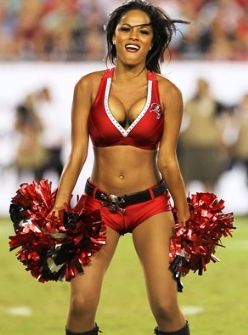 Here are some things Joe saw — and heard — at Bucs OTA practice held under overcast skies this morning.
* Bucs coach Greg Schiano jogging between stations.
* An errant Josh Freeman throw to the left sideline is nearly hauled in by Kevin Ogletree as he leaped high and got a hand on the ball. It seemed as if Freeman was trying to get the ball over Danny Gorrer, who had good coverage on Ogletree.
* Early, Freeman seemed to be off on short passes. On a short crossing pattern from the left side for Mike Williams, Freeman's pass was too low for Williams to handle.
* If there is a free agent who is making a splash this early, it is Arizona wide receiver David Douglas. On what looked to be the exact same route Ogletree ran previously, where Freeman overthrew him, Douglas skied for a pass and hauled it in before hitting the ground.
* A Michael Smith sighting! Last year's captain of the inactive list took a pass from Freeman in the backfield and darted and weaved his way through and past defenders.
*Not the way to make the team, son; free agent rookies have scant opportunities to prove themselves and Jheranie Boyd botched a perfectly thrown ball to him from Mike Glennon, right in the numbers that bounced off his chest into the air where cornerback Branden Smith, in perfect coverage, picked it easily.
* Glennon with a pump fake and throw to wide receiver Jerry Johnson for a nice gain.
* "Situation: Left hash mark, 16-yard line!" bellows Schiano. Later he could be heard instructing his players "Let's go, five-on-four in the end zone" for red zone work.
* Keith Tandy thought he had an interception of a Glennon pass along the right sideline but couldn't hang on. Tandy, with a roundhouse right, punched the air in frustration.
* Mark Barron had solid coverage in red zone drills and nearly had a pick of Freeman, knocking the pass down.
* Tim Wright (of all together now: Rutgers!) hauls in a pass from Freeman on the right sideline.
* Freeman beautifully connects with Williams on a screen to the right side.
* For reasons unknown, the pace of the practice really picks up without any hollering from coaches, largely because it's two-minute drill practice.
* "Rally, rally, rally!" Freeman yells after each play to get his teammates lined up quickly for the next play.
* Freeman is flushed to his right and the right defensive end (Da'Quan Bowers) is the only defensive lineman to get a hand in the air.
* Despite Johnthan Banks draped all over him, Chris Owusu catches a pinpoint perfect pass from Freeman along the left side. The very next play, Freeman hits Owusu for a bomb and six points down the left sideline.
* Schiano is directly monitoring defensive backs during a loose-ball drill and is wearing a big smile on his face.
* Here comes the piped in crowd noise…
* Ouch! Freeman is flushed out of the pocket to his left and terribly overthrows Williams, who was coming back to the ball along the left sideline. It was Merry Christmas for Tandy as he easily intercepted the errant throw. That simply cannot happen this fall.
* Glennon is chased out of the pocket to his right and tries to connect with Douglas but the pass is broken up by Banks.
* On the next play, Glennon again is flushed out of the pocket to his right. Once again, the culprit is a strong rush from right defensive end Steven Means.