Tony Oden Sings Praises Of Johnthan Banks
June 17th, 2013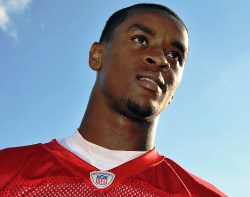 After just one interview, Joe has learned that Bucs cornerbacks coach Tony Oden is adept at coaching non-speak. He had all the empty coaching cliches down pat, such as, "We made a decision this offseason to not look back but to look forward," which flies in the face of Coaching 101; you learn from mistakes through film study.
Though Oden was not the Bucs secondary coach last year, the Bucs' pass defense was sinfully awful last season, just a handful of yards (14 to be precise) away from setting a 92-year record for NFL worst pass defense. Oden was absolutely tight-lipped when asked what he learned from last year's film and how he would correct mistakes. Not even the IRS would be able to get any information out of him.
But when the subject of rookie cornerback Johnthan Banks came up, Oden sang like a bird, praising Banks, effusively.
"He will be up against a lot," Oden said. "What he is learning is everyone is good here, everyone is fast. You have to play with that sense of urgency down in and down out. Things are going to go wrong and that the most important play for a cornerback is the next one. I think he will be just fine.

"He has confirmed some things we learned about him: He is a very passionate person, very prideful. He wants to do it right. Wants to do it the right way. He is smart and knows how to adjust."
Banks seems to be, based mostly on Oden's information, an extension of Leonard Johnson, who Oden highly praised for his exceptional work ethic. While Banks bragged how NFL receivers are no faster than SEC receivers, he will soon find out the NFL is not the SEC. It's grown man football.
How quickly the Bucs' secondary improves from last year may depend on how quickly Banks adjusts to the NFL. The strength of a secondary is tied to its weakest link. To date, no one suggested Banks is on Darrelle Revis' level quite yet.