The Revis Effect
June 26th, 2013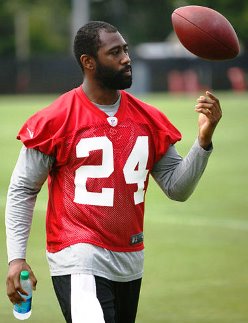 Joe's got a hearty breakfast here for those starving for football Xs and Os and real strategy talk. It comes from the outspoken yet anonymous "NFLosophy," who is rumored to be a former NFL front office type and has quite a following on Twitter (@NFLosophy).
After the Bucs acquired Darrelle Revis, this NFLosophy dude went deep into what he calls The Revis Effect, complete with an NFL "all-22" film breakdown and all kinds of detail.
Here's a snippet:
What you see here is Revis on an island at the top of the screen. The single-high safety is shading over top of the 2 wide receivers and tight end towards the bottom of the shot. In 11-personnel (1 running back, 1 tight end) and a 3×1 formation (3 receivers to one side) a lot of defenses will elect to play Cover-2 or if they go Cover-3 or Cover-1 man, the CB on an island will usually play in off-coverage. This will allow the receiver a short to intermediate route to ensure that he doesn't beat the single coverage over the top.

As you see it, even in a personnel package that screams pass, the Jets have 8 men in the box. They're comfortable leaving Revis in press man outside and a single safety over top of the 3 receivers to one side. The Jets are set up to defend both the run and the pass because of the flexibility that Revis gives them. They're also daring Tannehill to try to throw at Revis here – something they like to do.

One of the other things that Revis allows is that by dropping a safety in the box the Jets can clutter the middle of the field making it harder to find windows to throw into. Revis essentially has the left 1/3 of the field covered. The Jets have more than enough available players to drop into coverage to blanket the remaining 2/3 of the field.
You can click the link above to read the whole examination of Revis. What Joe enjoyed most is the video below. The author uses this film from Revis' final game of 2012 in Miami (when Revis blew out his knee) to remind us that Revis is stout against the run. Revis, aka The Boy Wonder, is the pursuing cornerback at the bottom of the screen.