Donald Penn: Buccaneer Man
June 25th, 2013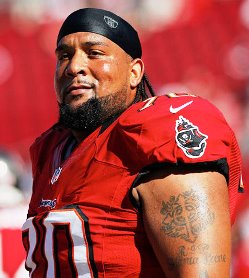 The Bucs like to promote their players to the community as "Buccaneer Men." It's something that has been a focus of Bucs coach Greg Schiano.
What is a "Buccaneer Man? One who gives his all on the field, and gives back to the community; a player who makes fans proud.
Well, Donald Penn, stepped forward. While he didn't give back to the local Tampa Bay community in this particular instance (he has in the past), his kindness helped out his old high school football team, which has fallen on hard time. That's surely what a Buccaneer Man is all about, writes Jason Lewis of the Los Angeles Sentinel.
Penn hosted a youth football camp at his old high school, even brought along Hall of Famer Eric Dickerson. The cost? Not one red cent, just dedication and work from the campers, that's all.
"The camp was remarkable," St. Bernard High School football coach John Bibb said. "It was an outstanding thing for the community and the boys. That pigskin brings together a lot of things that inner city kids need, outer city kids need, youth as a whole need. Discipline and teamwork."

Many children do not have the opportunity to be coached by NFL players, especially because of the cost of many camps.

"This day and age the economy is rough," Bibb said. "So I want to emphasize that this camp was free. There are camps from here to Alabama to Texas, and locally at UCLA and USC. Camps have to get the money to run the camps. They have to pay for the coaches, and to pay for the facilities. One thing Donald Penn did was give this to us for free."
That's just very cool for Penn to do that (and Dickerson and a few others) out of their own time, using their own checkbook.
If that's not what a Buccaneer Man does, then Joe doesn't know the definition.