Secret Superstar: Leonard Johnson
June 13th, 2013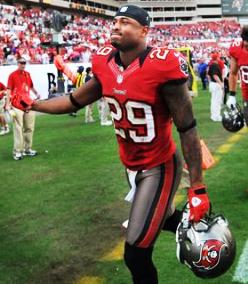 The numbers-crunching, TV-football-watching crowd at Pro Football Focus resumes a series where they look at each NFL team's sophomore players and try to figure out which second-year player can have a breakout season.
After pouring over the Bucs' roster, Peter Damilatis has come to believe that Bucs cornerback Leonard Johnson could have a breakout 2013.
Despite the name of this series, it would be a bit of a stretch to say that Johnson was a true superstar last season. Aside from the large responsibilities he had, he also made mistakes that will cost him in the future if he doesn't correct them. With 10 missed tackles on defense and special teams, he may need to bulk up his 5-foot-10, 200 pound-frame to avoid slipping off ballcarriers. But as Rahim Moore showed us this season, poor tackling is certainly correctable for young players.

To fully reach his potential this season, Johnson will have to earn back his starting spot first. Newcomer Revis will likely be on one side, but the other starting spot is there for the taking. Wright was nearly released if not for a drastic pay cut, and Johnson's experience last season gives him a slight edge on fellow youngsters Johnthan Banks and Anthony Gaitor. A year after going undrafted, Johnson's has shown success as a starter and could have a clear path back to that position. On a roster already brimming with young talent, don't be surprised if he soon earns the notoriety of his 2012 classmates.
Joe can't quibble with a lot of what Damilatis types, but here is where the proclamation runs into problem: For Johnson to have a breakout year, a lot must go wrong for the Bucs. For Johnson to shine this much, that tells Joe that either Darrelle Revis can't come back from his knee injury, or Eric Wright stinks, or Johnthan Banks struggles mightily and/or one of the two gets hurt.
That's not very reassuring to Joe, as much as he would love to see Johnson develop so well.