Hayward "Unfairly Got Criticized," Says Cox
June 14th, 2013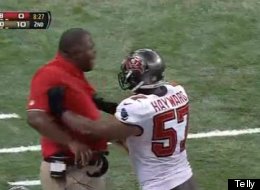 Joe's used his share of Internet space criticizing Adam Hayward for shoving assistant coach Bryan Cox on the Bucs sidelines last December, a move that was picked up by TV cameras and the case was publicly dismissed by Greg Schiano.
For Joe, Hayward's actions were thoroughly unacceptable. Hayward clearly was angered by Cox and shoved him. Imagine if he had shoved Schiano?
Early this week, Joe finally got a chance to ask Cox to explain what happened and what fans should know about the incident. Cox said it was blown out of proportion and is ancient history.
"Nobody really knows what happened," Cox said of the heated sideline exchange with Hayward. "Adam and I have a really good relationship. That's in the past. We moved on from it. He's a really good guy and I think he unfairly got criticized for it."
Cox is as straight a shooter as one could hope for in a coach, and Joe believes Cox. Joe still thinks it was a heinous act by Hayward, but Joe's pleased to hear Cox is more mature than Joe and has moved on.