Bring On Darrelle Revis!
June 14th, 2013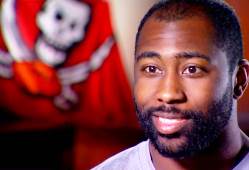 Joe has gathered all sorts of info. from Bucs players and coaches this week that will be pumped out on these here pages in the coming days. One thing Joe got from some young defensive backs is how much it helps them going up against Vincent Jackson and Mike Williams each and every day.
Soon it will be the receivers who will be tested.
Bucs rock star general manager Mark Dominik, freshly sheared, claims star cornerback Darrelle Revis will be in pads on the first day of training camp late next month. But being in pads is one thing, as Joe told his good friend, "The Big Dog," Steve Duemig, on WDAE-AM 620 this week. It's quite another to be in contact. If Revis is able to go full speed with no restrictions, Bucs receivers are all but saying, "'Bring it on, Revis!'" so writes eye-RAH! Kaufman of The Tampa Tribune.
"I keep telling him I'm not one of those receivers he's been checking," Williams said with a smile following Wednesday's practice. "Darrelle said he's been going against the best, and I told him, 'If the ball's in the air, I'm going to get it.' We keep arguing every day.

"I can't wait to go against a guy of that caliber. He can get me better."
It's not so much an ego thing with Jackson. Rather, he believes Revis and Goldson will make him better for an upcoming opponent.
"Darrelle and (safety) Dashon Goldson are going to shore up our secondary," Jackson said. "When Darrelle lines up against me, I know he's going to give me his best and he knows I'm going to give him my best. When you're going against looks on Wednesday through Friday that are harder than what you face on Sundays, that's an advantage."
Joe knows talk is cheap, especially in June. Still, from what Joe has seen and heard, he loves the attitude of this Bucs team.
It makes sense that going against the best in the NFL (Jackson/Freeman vs. Revis, for example) can only help the team, just like Schiano's now famous cry for competition.
There's no way of putting a specific value on how much this competition helps, but Joe would hope it could lead to two extra wins.