Nobody Will Roll Over For Eric Wright
June 8th, 2013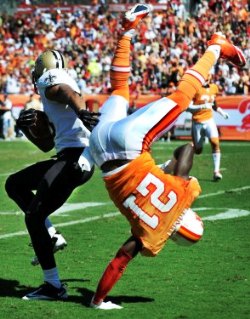 Bucs rock star general manager Mark Dominik shook up the NFL last offseason by signing a troika of free agents that were expected to turn the team around.
Carl Nicks was tremendous until he could no longer stomach his ugly toe injury (Joe saw that toe with his own eyes and it was gross). Vincent Jackson couldn't have played much better. He was arguably the Bucs' best player and consummated his stellar season by eating pineapple.
Then there was Eric Wright.
His September pick-six of Eli Manning may have been the Buccaneers highlight of the year, but Wright quickly began giving up big plays and compounding them with dreadful tackling. Throw in multiple injuries and getting suspended for Adderall (which gave him an excuse to lounge at a California spa while his teammates slugged it out trying to remain in the playoff hunt), and it's not difficult to see why Bucs fans turned on him so.
Wright's back, but he does have to win a job from guys who consider themselves returning starters. Per Greg Schiano, it seems those who were praised for their cornerback play in the season-ending win in Atlanta, Danny Gorrer and Leonard Johnson, won't just roll over and make way for Wright, so notes Brad Briggs of National Football Post.
"There's some guys that finished the year that they think it's their position, and Eric thinks it's his position, so we'll see," Bucs coach Greg Schiano said. "I'm not sure exactly how everything will turn out, nor do I care. I know I like the guys that are right now competing. That's the most important thing, and we'll let it all play out."
Schiano has to be loving the attitude of those competing with Wright, and Wright deserves no incumbent respect.
But it will be rather disturbing — and scary — if Wright can't beat out Gorrer or Johnson. It would be as if the Bucs made a mistake with him two years in a row.