Don't Expect Bucs To Grab Another TE
June 7th, 2013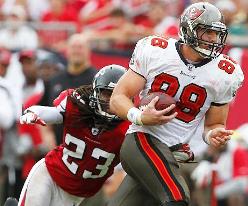 Joe knows it is popular for Bucs fans to want another tight end. They've seen enough of Luke Stocker to know he is not Anthony Gonzalez, and most haven't seen Tom Crabtree play. So when it comes to the current Bucs tight ends, a large segment of Bucs fans stare into their pint of beer, shrug their shoulders and say, "Meh."
Seems just such a Bucs fan pestered ESPN NFC South blogger Pat Yasinskas about this very subject.
John (NY)

Big time Bucs fan! Excited about the defense this coming year. It appears that the Bucs are content to go into the season with Crabtree and Stocker at tight end. Do they think Martin's ability in the pass game negates the need for a big time tight end? Also are you sold on their back-up running back situation? Thanks and great job!!

Pat Yasinskas

Yeah, it certainly appears like they're content to go with Stocker and Crabtree. If they were going to make a big move there, I think they would have made it by now. I get the sense they think Crabtree can be pretty good. On Martin, it seemed like they were throwing to him a lot in OTAs.
Joe knows many Bucs fans likely won't want to read the following: the chances of Bucs rock star general manager Mark Dominik grabbing a top tight end for the 2013 season are about nil. The main reason is offensive coordinator Mike Sullivan doesn't consider tight end of big-time importance.
Besides, if you talk to Bucs suits and Greg Schiano, they are cautiously excited about Crabtree. They believe he has skills other than blocking that were rarely utilized in Green Bay and that he may be a diamond found in the rough.